Crowded #1
Writer: Christopher Sebela
Pencils: Ro Stein
Inks: Ted Brandt
Colors: Triona Farrell
Letters: Cardinal Rae
Review by Paul Hart
This review may contain spoilers.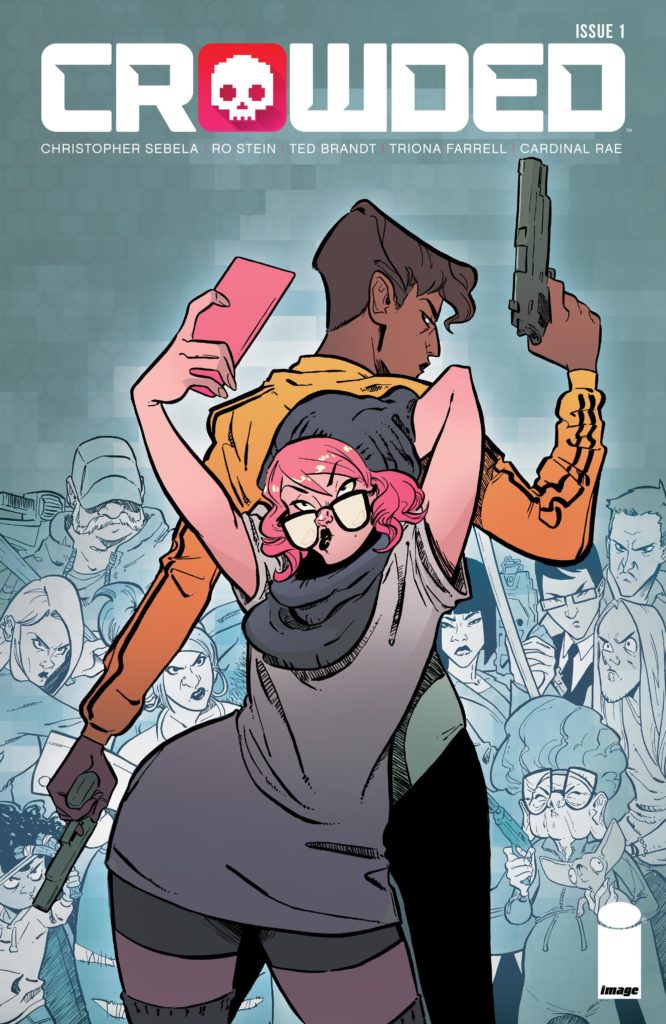 Let's face it, social media pretty much runs society in this day and age. I mean, if you're not hooked up to the cloud, you might as well be drawing pictures on the inside of a cave. Almost all of us depend on and use social media. Whether it's to keep up with family members who live in a different state or use social media apps for jobs or side-work. Lately the new craze has been to use social media to ask for money, whether directly or to have friends donate to a project. I mean lets face it, gofundme is pretty much the nation wide accepted health care. However, what if there was an app to let you take a hit out on someone? Well the new title Crowded from Image Comics takes us inside a not so alternate reality to show us the chaos that could and would ensue. 
Crowded comes from the mind of Christopher Sebela (Captain Marvel, Escape From New York, Dead Letters) and artist Ro Stein (Captain America: Steve Rogers), with inks by Ted Brandt (Princeless), colors by Triona Farrell (Mighty Morphin Power Rangers) and letters by Cardinal Rae (Xena: Warrior Princess). Crowded, as advertised, basically takes place 10 minutes into the future, which is a scary, yet very realistic depiction of the world it takes place in. We are thrown into a text conversation on an app called DFENDER between our two leads, Charlie and Vita. Vita is a bodyguard who gets freelance work on DFENDER, but has a very low score because she is only into protecting her clients and tries to avoid bloodshed, killing and gore as much as she can. Customers these days are so hard to please.
Charlie is the one paying Vita to save her life. For reasons unbeknownst to us, a campaign has been pledged on Reapr, a crowd funding site that gives you money for killing someone on a campaign. On Reapr, people can issue a hit out on almost anybody. We are told the main victims are usually politicians, celebrities and socialites.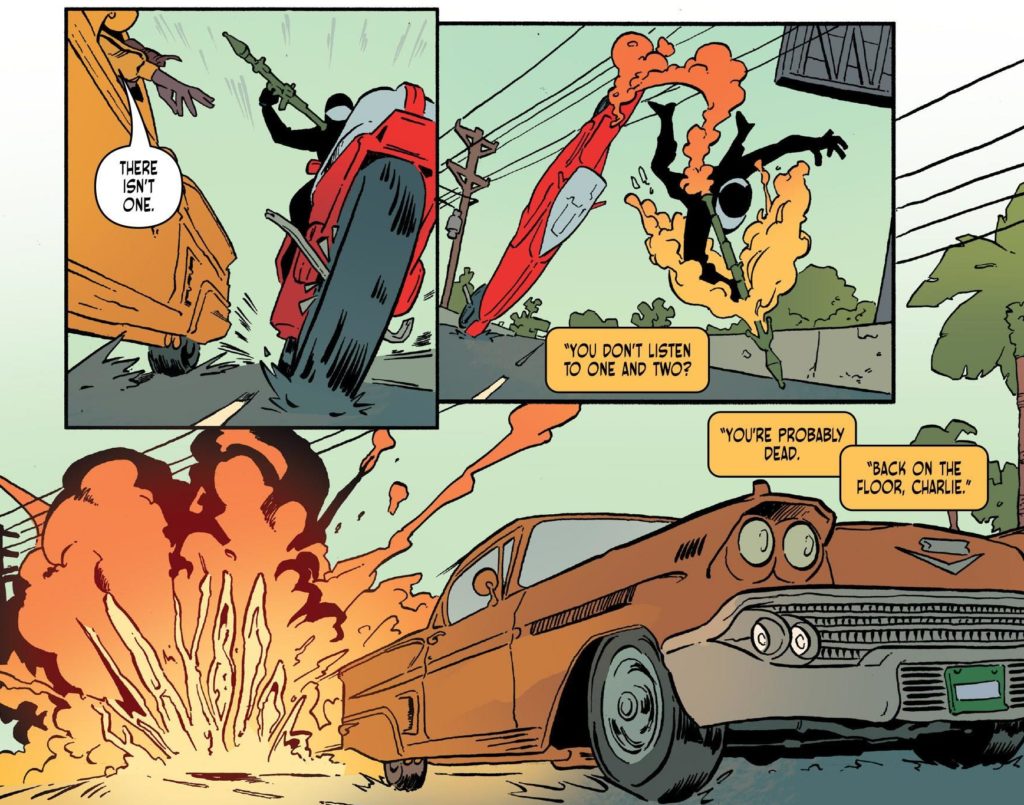 Throughout the issue we get a glimpse into a normal day for both Vita and Charlie (Charlie's day gives a hilarious montage of her using very similar apps that we use to make money). We then get a double shot of action, as Charlie and Vita try to make it to Vita's safe house. The two desperately try to find out information about each other, however neither of them really wants to give up too many details. The readers are left trying to find out exactly why Charlie has a campaign on her, and the issue concludes with danger coming to their doorstep.
Right off the bat, I have to say… No I have to scream: I LOVED this issue! It is a perfect balance of satire, humor, drama and action. This first issue shine the brightest as it builds the chemistry between Vita and Charlie. 
Vita plays a very intriguing character, and her outfit is a definite call back to the Bride from Kill Bill and Bruce Lee in Game of Death, which shows just how tough of a character she can be. Charlie plays with the ditzy, blonde archetype, but also shows us there is much more than meets the eye with her. The mystery as to why there is a hit on Charlie leaves you wanting more, and finding out who has donated leads you to question if Charlie is as innocent as she says. The art and colors are outstanding. It gives the comic a very cartoony, almost animated feel, which works perfectly for this story. Crowded is at its best when it is not taking itself too seriously.

The Verdict
I have to say, this is about as perfect as a number one issue can get. It looks at our current obsession with social media and technology, while turning it on its head. The crazy part is, you can't help but stop and think that this fiction could be inching its way closer and closer to reality every day. All I have to say is this; you better be careful with how you treat people, or you might end up on someone's hit list. 
5/5