Mighty Morphin Power Rangers: Shattered Grid #1
Writer: Kyle Higgins
Artist: Daniele Di Nicuolo and Diego Galindo
Colorist: Walter Baiamonte and Marcelo Costa
Letterer: Ed Dukeshire
Review by JonahVark
This review may contain some spoilers.
When you are reviewing number one issues of comics, there is a potential problem. Sometimes comics put out a one shot and it just happens to be the conclusion to a story arch. Welcome to this issue of the Power Rangers.
If you are not currently reading Mighty Morphin Power Rangers, this is not the book to jump into. However, if you want to hang in there like I did, you will find that this book is quite enjoyable. Now mind you, I do not usually read Power Rangers comics. I have no idea what was happening in the first thirty issues of this run. But it was awesome nonetheless. 
The Story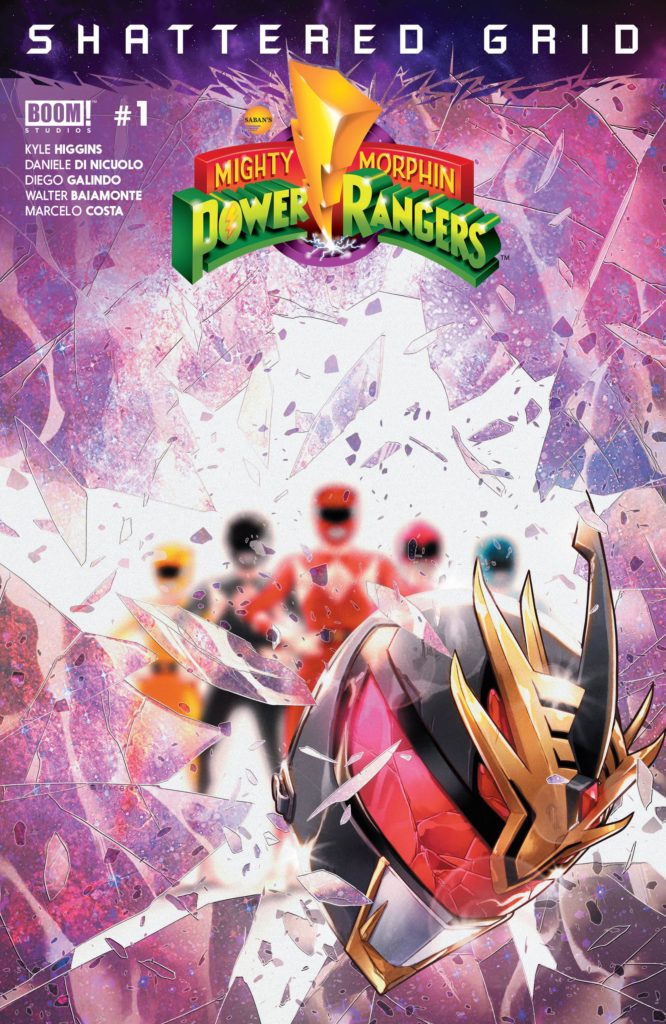 The opening panels are of a major fight and to my surprise, there is more than one Power Ranger team. The first few pages are exactly what Power Rangers is all about, action and Zords. And of course, the Rangers are able to create a new Zord, big and bad enough, to beat the bad guy.
Now, I was confused because the book puts you right in the middle of the fight. If you start with this book, you are probably not going to know who the bad guy is and why there are several teams of Rangers. None of that is as surprising as the tall, giant, dark Ranger appearing out of nowhere and seemingly destroying existence.
I say destroying existence because the panels are drawn exactly like any other reality shifting panel is drawn. The characters and scenery start to fade out until nothing is left except white space. This is the one downside to the book. As you read, you find out that existence is in a warped reality. This story is not very original in this sense.
However, Higgins puts a nice spin on it, which I am not going to spoil for you. But I will tell you that the dark Ranger killed a bunch of his alternate selves to prove he was the best. He is apparently the only one of his selves that was bad throughout all dimensions. We get to see his descent into madness as his mind breaks. Those particular panels, along with the dialogue, were written exceptionally well.
In the end, the Power Rangers are victorious, introducing me to The Morphin Grid and The Emissaries. The Emissaries are a Blue, Red, and Yellow Ranger. Each of these Rangers has a split costume, each side a different style of Ranger design. So maybe there are six different Ranger teams? I am not sure, but they are the ones who know how to put reality back together.
Like all other alternate-warping, reality shifting storylines, when things are put back together, not all of the pieces fit. This reality shift will be the launch point for the next phase of the Mighty Morphin Power Rangers.
The Art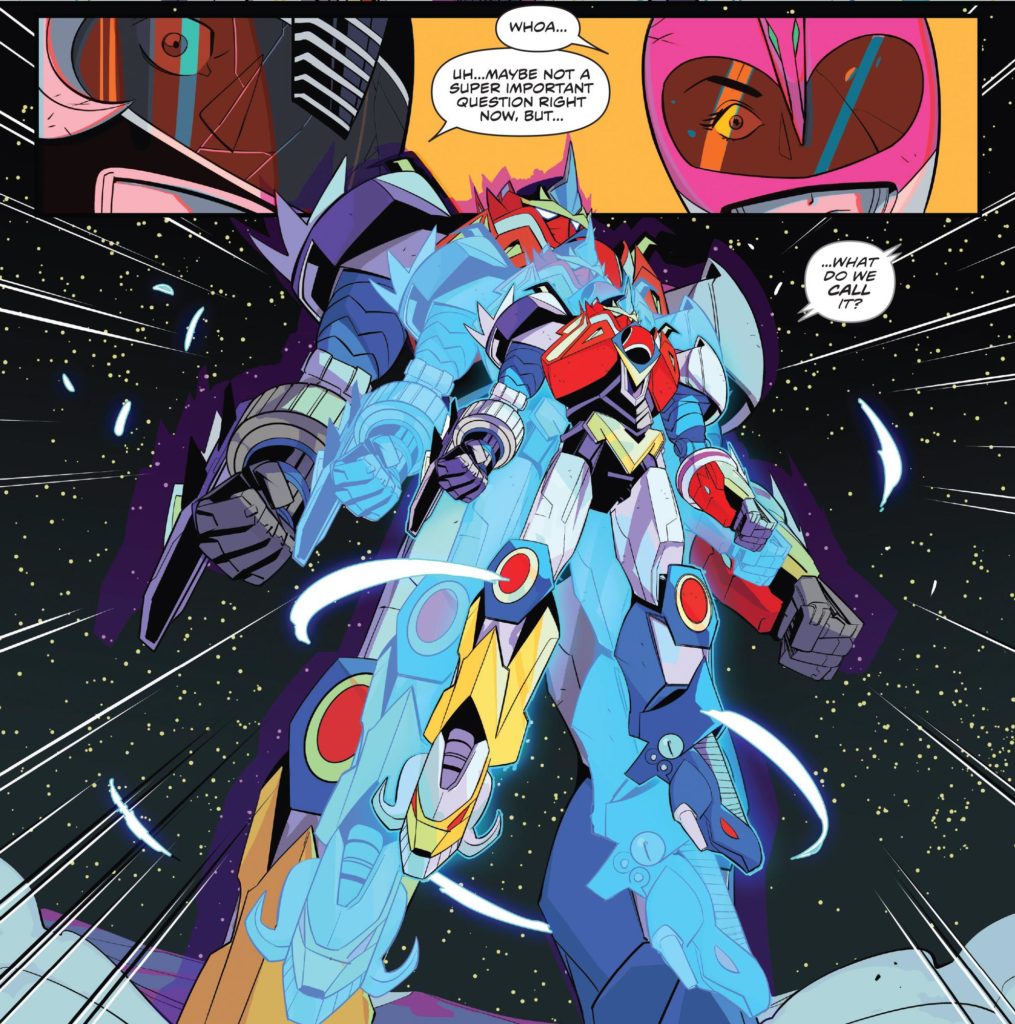 Daniele Di Nicuolo and Diego Galindo brought their absolute A-game in this issue. The unique blend of animated styling, mixed with borderline manga influences really brought these characters to life. They do a phenomenal job of capturing emotion through the faces, and the action sequences were top notch.
Combined with the beautiful artwork, is the brilliantly colored work from Walter Baiamonte and Marcelo Costa. The vibrant color palette chosen throughout this book blew me away, and brought this book to life in a way I wasn't expecting out of a Power Rangers comic.
The Verdict
Overall, I really enjoyed this book. It was written well enough that I figured out the story, though I do not recommend the reader doing this. Pick up the four issues (plus one annual if you get those) before this and read the whole story. I think it will be significantly more enjoyable if you actually have the back story before going in. That being said, by the end of this book, I wanted to read what was next for the Mighty Morphin Power Rangers. That alone should tell you how solid this book is.
4/5