Mr. And Mrs. X #1
Writer: Kelly Thompson
Artist: Oscar Bazaldua
Colorist: Frank D'armata 
Letterer: VC's Joe Sabino
Review by Benjamin Thomas
Known for their on and off again relationship for the past 30 years, X-Men favorites Rogue and Gambit have finally tied the knot. In a year filled with power house comic book weddings, this one was my most anticipated. I had very high expectations going into this book. Growing up, I was a huge X-men fan and I owe my love of Gambit and Rogue to the animated series in the 90's. However, this book ended up being a strange mix of highs and lows. 
Let's start with the art. I love the look of Mystique and Rogue in this book, but I wasn't a huge fan of most of the other character designs. I didn't even recognize some of the characters, but I'm not familiar with some of the newer members of the X family. The coloring in this book was X-traordinary, pun intended. From start to finish, the colors really helped bring this book to life.
The story was a little bit of a mixed bag. Rogue, Gambit, and Mystique were all written exceptionally well. They felt true to themselves, while also leaving room for character growth. That being said, I do hope they give them more to do, as I found most of this issue to be shockingly mundane. With this being the big wedding issue, I understand the importance of setting the stage for what's to come with this new character dynamic. However, I don't feel like we really got any sense of where this story is headed. I also found most of the supporting characters to be pretty two-dimensional here. None of the jokes in this book landed for me, which says a lot, as I tend to be a fairly easy critic, especially with comedy. I'm an easy laugher and proud of it.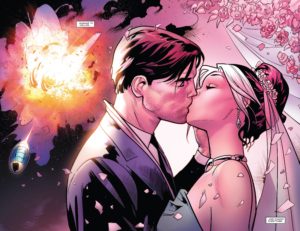 I really enjoyed the moment where Rogue used the power dampening collar so they could consummate their marriage. One of the best parts of their romantic relationship has been how hard it is for them to connect without that physical touch. I was confused by their important mission, did Kitty set them up? The ending, which I don't want to spoil here, was confusing to me at first. However, after doing a little digging, I think it'll be a great way to add some drama to the newlyweds lives.
The Verdict
This isn't the greatest first issue. I wasn't particularly familiar with several of these characters, which made it harder to get into. A successful first issue should be a good starting point for new readers, and I feel like this issue doesn't completely hit the mark. I'm still going to give this book a second issue, hoping it'll somehow hook me. Gambit and Rogue are the stars of the show and they were written wonderfully. Now that the wedding is out of the way, let's get to the good stuff!
3.5/5