Rick and Morty vs. Dungeons & Dragons #1
Writers: Patrick Rothfuss & Jim Zub
Artist: Troy Little
Colorist: Leonardo Ito
Letterer: Robbie Robbins
Review by Benjamin Thomas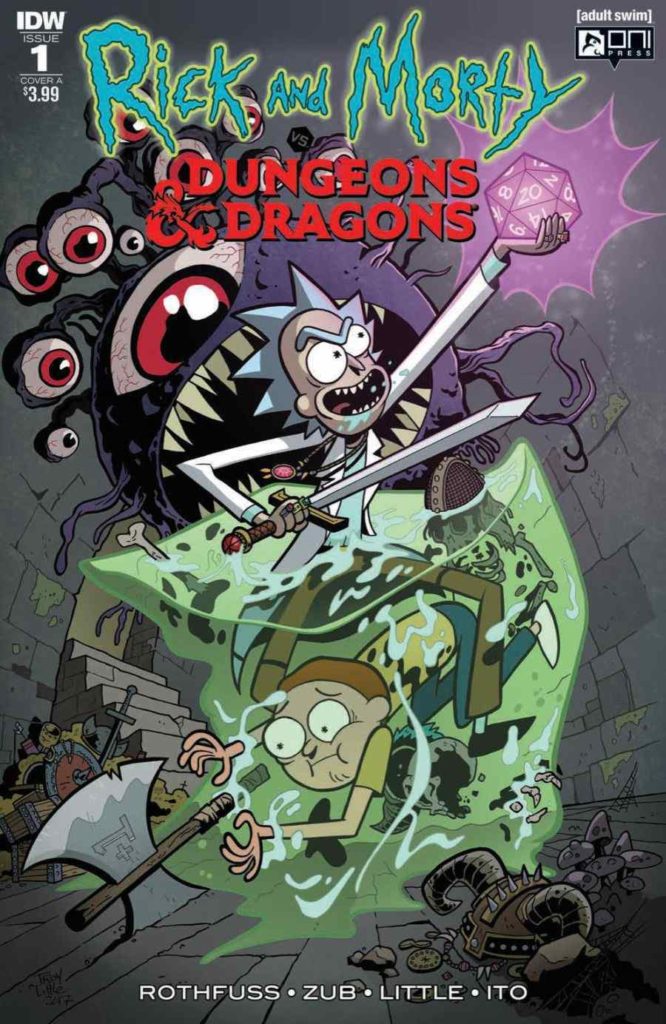 When you think of Dungeons & Dragons, you usually think of towering giants, mystical wizards, and well… dragons! Generally you don't think about a time traveling drunk uncle with his nephew. However, the combination of these two things is the most unexpected, yet perfect thing I never thought of. This book is written by best selling author of the King Killer Chronicles, Patrick Rothfuss, and Wayward scribe, Jim Zub. Both of these men have a bounty of experience writing fantasy and were perfect for this mash-up.
First of all, I'm a huge fan of Rick and Morty. I mean, I went to high school with Justin Roiland, so I kind of have to love it, right? Second, and all joking aside, I'm a massive D&D nerd. From the time I was 14 until I was about 24, I played anywhere from 2-5 nights a week, every week. Admittedly, it's been a while since I was able to play myself, but I do listen to several D&D podcasts. Lastly I love IDW comics. When it comes to licensed properties, they are King. So when I heard one of my favorite publishers was making a book crossing over two of my favorite things, I was instantly on board.
THE STORY
Our adventure begins with Morty eavesdropping on a couple of kids recounting their most recent D&D session. Morty of course likes what he's hearing, but the deal is ultimately sealed when he heard one kid say "Jason only plays to get laid." Now I won't comment on the logical fallacy here, that D&D gets you laid. Instead I'll say how perfectly Patrick and Jim show their knowledge of the character. With eyes glazed over, Morty now finds himself in a local hobby shop surrounded by books, dice and total confusion. Right when he's about to give up, a pretty girl named Annika, who works at the shop, invites him over for a game. The only problem is, he's never played before.
Freaking out as he does, Morty races to Uncle Rick for what he hopes will be a quick fix. Little did he know, he would end up with way more than he bargained for. From this point on, I'm going to avoid spoilers completely. The rest of this book is a load of fun, and I have no desire to ruin that for anybody. This is the kind of book that you want to go into, knowing as little as possible. And in usual Rick and Morty fashion, it goes places you'd never expect.
THE MASTERMINDS
Patrick Rothfuss and Jim Zub, in true IDW fashion, are the best men for this job. They are clearly fans of these two properties. Zub has a plethora of D&D comic book credits to his name, so that was really no surprise. What did shock me, is how well they captured our heroes voices, while also adding ancillary characters who fit beautifully into the world created by Dan Harmon and Justin Roiland.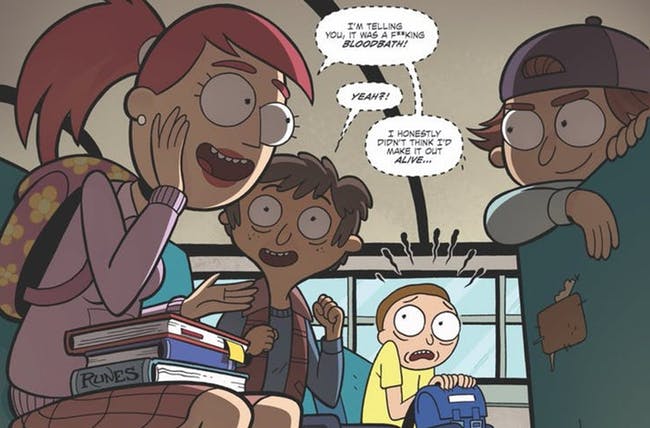 They sprinkle just enough game mechanics into the book for non-D&D players to understand, without feeling overwhelmed. Too many game mechanics would have taken something away from the fact that this is a science fiction/comedy, set in a wacky world with characters named Mr. Poopybutthole and Pickle Rick. A fact that definitely is not lost on them.
The art is what you'd expect from a comic based on an animated series, it looks like an episode of Rick and Morty. However, that's not a bad thing. It looks great and the colors pop. There are some great visual gags connected to both properties, showing that the artist, Troy Little, is just as big of a fan as our writers are. I mean, it's hard to complain about seeing characters you love, brought to life by an Eisner and Harvey Award nominated artist.
The Verdict 
I loved this book with a passion I can't describe. Not only did it meet my expectations, but it far surpassed them, in the most glorious way. It looked fantastic, brought both worlds to life beautifully, and has me eagerly anticipating the rest of this four issue mini-series. There are some absolutely wonderful variant covers by Sara Richard and Tess Fowler, so make sure to stop by your local comic book shop and pick those up as well. The only negative thing I have to say about this book, is that there are only going to be four issues. I want more… so… much… more!
5/5