The Seeds #1
Writer: Ann Nocenti
Artist: David Aja

Review by Paul Hart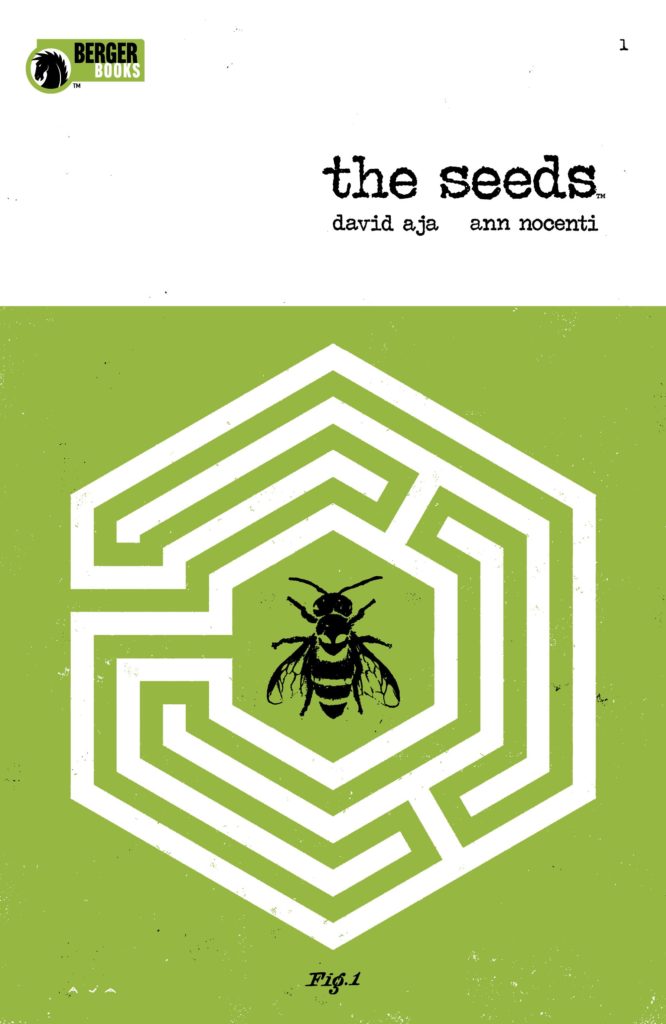 Politics and social issues have always found their way into comic books, so seeing them in today's comics is nothing unique. However, when going that route, it can either make the book that much stronger, or border on being preachy, out of place and distracting.
Back in the 60's and 70's, the X-Men were a true symbol of the social issues that were affecting our society. In today's social media driven and politically influenced society, The Seeds looks to tackle many of the social and political issues that we are faced with today. The question is, does it hit its mark, or does it blow up all over the launching pad? Let's find out!
The Seeds is a brand new mini-series from Dark Horse Comics. The same publisher that has given us cult favorites like Hellboy, Goon and the sleeper hit Harrow County. The Seeds teams up veteran writer Ann Nocenti (Spider-Woman, Batman & Catwoman: Trail of the Gun) with artist David Aja (Hawkeye).
This book throws us into a black and white, almost post apocalyptic world right from the start. Society is torn into two zones, Zone A and Zone B, known as "The Zone." The zones are of course separated by a giant, long wall. Zone B is described as a land with no laws, no rules, no phones and no internet. It is viewed as a modern day Sodom and Gomorrah. People have been choosing to "crossover" from Zone A, to join Zone B. Many who do, usually leave loved ones behind.
It is here where we are introduced to our main character, journalist Astra, who is determined to write a thought provoking article on Zone B and why people are leaving their lives behind to crossover. Astra's editor, Gabrielle, wants her to only focus on click bait articles that may or may not follow the rules of ethics, in order to make money. Astra and Gabrielle eventually come to a compromise. Astra has to research a new drug that can show people their own death, and Gabrielle will in turn let Astra write an opinion piece on the wall separating the two zones.
In the midst of all of this, we are tossed into another central story involving outcast, Lola, and her hook up buddy, a masked outsider who reveals he is crossing over the wall into Zone B. However, Lola's new love interest isn't all he appears to be. He and a handful of other masked men soon reveal they are collectors from another planet, taking samples from earth as it has been foreseen that earth is doomed to destruction. The issue ends on a bit of cliff-hanger that is too good to spoil here!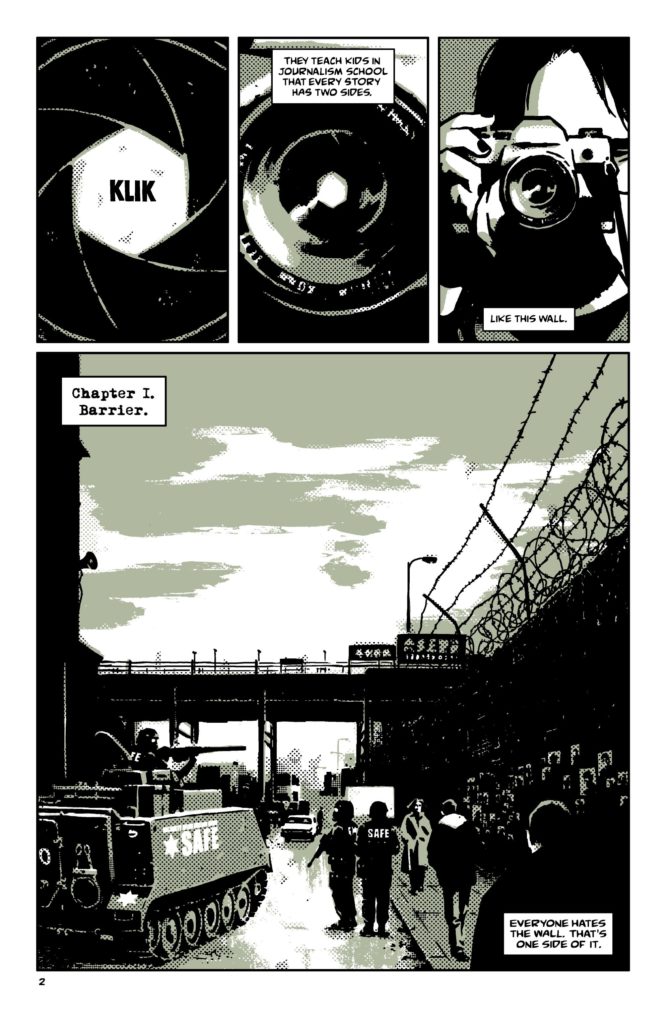 I had a lot of fun with this first issue (#1 out of 4). I love it when a story throws you into the middle of a situation, but gives you enough clues and context to not leave you scratching your head in the dark, while the story flies by at the speed of light. I also love when fiction blurs with reality. Nocenti takes several hot topic issues from current headlines and gives them an extra-terrestrial, fantastical spin, while still managing to keep it grounded in a reality she masterfully built. Other than one scene that feels like it was pulled straight from Wall-E, everything else hits on all cylinders.
I would be doing this book a great disservice if I did not bring up David Aja's powerful artwork. The whole first issue is completely black, white and gray, which is a bold move when the story is so clearly centered on topics that are anything but black and white. Aja gives fantastic detail when needed, but also nails the minimalist approach when the story calls for it.
The Verdict
The Seeds #1 (out of 4) is a must have for anyone who loves that post apocalyptic vibe in their comics. Nocenti does some amazing world building in this fantasy/mystery story, that is strongly based and anchored in our current reality. At times it can come off a bit preachy, however it is not enough to take you out of the story. Aja brings his A-game on this project, but I mean, come on, can we really expect anything less?
4/5